Sales Development Plan
A.  Impact Analysis – The X-Ray
Complete analysis of your sales team.  The Management Overview is the single most important collection of information about your company's sales organization.  Using the information collected from the individual evaluations,  the Management Overview sheds light on problems with your hiring criteria, the state of your pipeline, the effectiveness of your sales management efforts, whether your management team is on the same page, whether your sales force is capable of supporting your priorities, how comfortable your salespeople are with your model for going to market, business being lost as a result of the problems and  suggests changes that must be made to your sales management systems. In addition, it illustrates the hidden problems of which you weren't aware, weaknesses common to your salespeople, which salespeople should be performing better and what you must do in order to help them reach their potential.  You'll also learn who is trainable, how much training they'll need and the kind of help from which each will benefit.  And if you are attempting to transition your company from good to great, you'll learn which of your existing people should be on the bus, which seats they should be in and who should be off the bus.   The Executive Summary compares your sales organization to both the target levels as well as the average of all companies we have previously evaluated in the State of Sales Management, Crucial Success Factors, Major Performance Factors, Training Factors and Organizational Growth Potential.
Investment TBD based on number or participants, time, and effort.  Of course this will be mutually agreed upon in a separate agreement that will be determined with a specific scope of work.
B.  Complete Team – Fill Vacancies
Sales Talent Acquisition Routine (STAR)  We implement a Sales Specific Hiring System to fill vacancies in the Sales and Sales Leadership positions with people that not only can but WILL execute.
Investment TBD based on number of hires
 C. Training – Change
The training program will vary based on the findings from the Impact Analysis but here are some general guidelines to our blended learning program.
First, people don't make changes in a day.  Our training will incorporate a comprehensive program inclusive of;
Live face to face group meetings
Individualized coaching and curriculums
Accountability
Self study
Ongoing reinforcement
We will merge our universal truths of sales with your goals and customize a program proven to increase the top and bottom line turning opportunities into revenue.
Typically we kick off the program with a one day introduction program and schedule quarterly half day follow-ups.  Between the live programs we schedule individual and group coaching, online training, and self study.  Depending on our findings we typically engage clients for one to three years and sometimes beyond.
Investment TBD based on number or participants, time, and effort.  Of course this will be mutually agreed upon in a separate agreement that will be determined with a specific scope of work.
Predictive Sales Candidate Assessments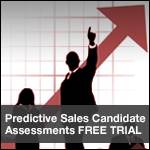 Register for Free (3 Day) Trial of Sales Candidate Assessments
Impact
High impact one day training has little equity! It's like getting a drink of water from a fire hydrant. Most of it runs off and evaporates in a short time. Much like reading a book or going to the movies. It's more entertainment than an effective vehicle for change.
Reinforcement
Have you ever read the same book or seen the same movie more than once? Chances are you picked up on something the second time that you didn't notice the first time. Reinforcement training provides opportunity for clarity and real world application. This is when true change comes about.
Ownership
My guess is that you didn't have to tell your self to look in the rear view mirror last time you drove. It was automatic. Ownership occurs when you don't have to consciously think about what you are doing. This takes time, effort and learning the right lessons from failure.

FREE Sales Force Grader
Answer just 22 questions (it will take less than 5 minutes) and we will provide you with an instant score (on the next page) on the relative effectiveness of your sales force. Along with your score, you'll see how your sales force compares with others, receive an explanation of what your score means, and we'll recommend what you can do to improve your score.
Call Today for Free Sales Analysis
1-877-608-9900